Irrigation Installation in Greensboro, NC & Nearby Areas Like Winston-Salem & Summerfield
We are a licensed irrigation contractor for the state of North Carolina!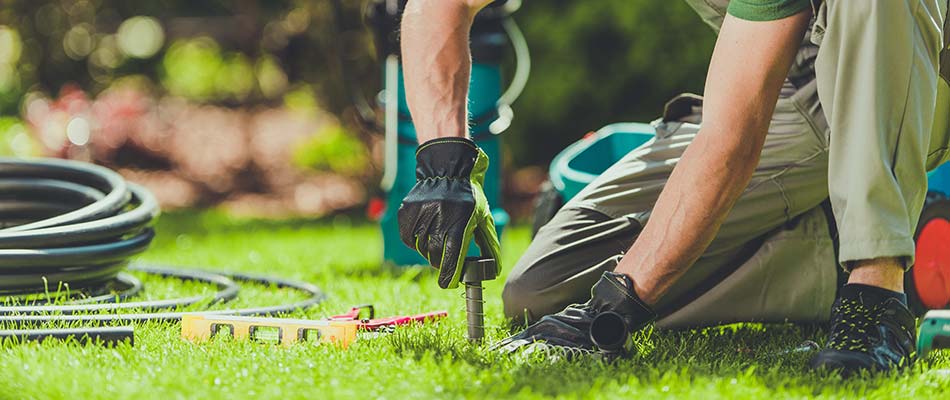 For anyone that wants a perfectly hydrated and healthy lawn and landscape, installing an irrigation system is a must – and our team is here to help! We can install either a sprinkler or a drip irrigation system to suit your needs and preferences. Our smart systems are the epitome of convenience since you can control everything from your phone! We also offer a management program to keep your irrigation system operating at peak performance year-round.
Our company offers irrigation installation to commercial, residential, and HOA property owners in Greensboro, NC and nearby cities like Winston-Salem and Summerfield. If you're ready to nourish your plants with professional, convenient hydration, call us today at (336) 396-9191 to get your quote!
---
We install both drip irrigation systems and sprinkler irrigation systems.
Our company installs both drip irrigation systems and sprinkler irrigation systems to best suit the needs of your lawn and landscape! If you go the drip irrigation route, our team will install small pipes throughout your property in areas that need watering. These pipes will be calibrated to dispense the perfect amount of water over time, slowly dripping it out for direct delivery to the root systems below them.
Our sprinkler systems are the textbook picture of "irrigation." We'll scope out your lawn and landscape and determine optimal sprinkler placement for the best coverage, paying special attention to anything that might need extra care and coordinating the zones accordingly. This is a great option for large expanses of land since sprinklers can output a ton of water over a broad area, as well as being mostly hidden away when not in use!
Drip irrigation systems are affected less by evaporation due to their precise and direct watering method!
---
We offer smart irrigation systems that optimize your watering.
You deserve irrigation that's as smart as you are, and our irrigation systems are A+ students! The systems we install are the epitome of convenience, allowing you to control major aspects of their operation right from your phone. These smart systems can include many helpful features, like automatic adjustments to the watering schedule according to the season, local weather, temperature, and humidity. This will ensure you have optimized watering so your plants have the hydration they need without unneeded water waste, saving you time and money!
---
Our team has an irrigation management program with three visits over the summer.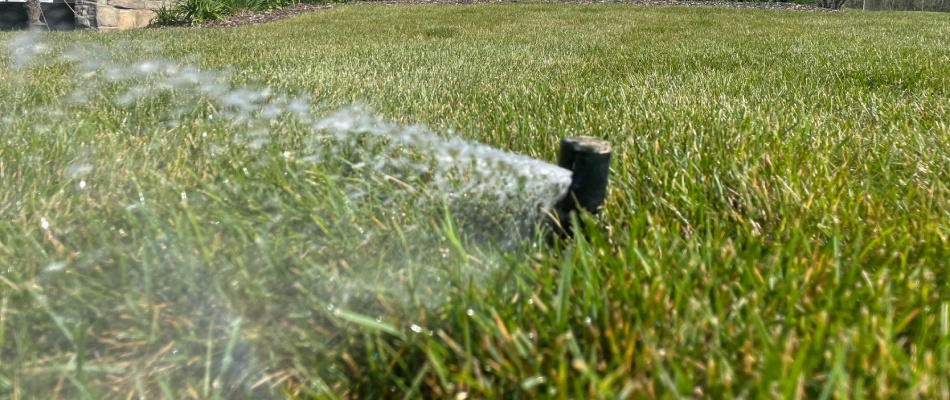 To take good care of your irrigation system, we offer an irrigation management program! This program will ensure that your irrigation system is operating at peak performance, focusing three visits around summer when your system will be getting the most use, and thus, potential wear and tear risk is higher.
Our visits will include:
Running a system test
Adjusting timers
Small repairs
Aligning sprinkler heads/checking drip irrigation pipes
With these boxes ticked all summer long, your property will be hydrated and healthy despite the heat that we experience here in the Greensboro area!
---
Call us today to schedule your irrigation system installation!
We have assembled a best-in-class team at Ideal Landscaping & Irrigation who is ready to serve you! Our team is dedicated to high performance and even better customer service. We put the focus on you, making sure you're more than thrilled with what we've done because otherwise, we aren't satisfied. With 23 years of experience, we're well-versed in all things irrigation and can create the perfect hydration system for your needs. We offer this service to Greensboro, NC and nearby cities like Winston-Salem and Summerfield. Call us today at (336) 396-9191 to schedule your irrigation system installation and achieve the flourishing lawn and landscape you've always wanted!