Lawn Care & Landscaping Services for Residential & Commercial Properties in Kernersville, NC
We offer lawn care, landscaping, design and build, and irrigation services.
Kernersville, NC, is the largest suburb of Winston-Salem, with a population nearing 26,800. This city has a rich history, which you can learn more about at the Kernersville Museum. It's also well-known for Körner's Folly, a historic home built in 1880 by designer Jule Gilmer Körner; today, you can tour this home and view its architecture and interior design. If that's not enough, you can admire beautiful themed gardens at the Paul J Ciener Botanical Garden or go fishing and paddleboarding at Kernersville Lake Park.
Kernersville is a prominent city in North Carolina that makes its mark, and at Ideal Landscaping & Irrigation, we help residential and commercial properties here do the same. We've been offering exceptional lawn care and landscaping services for 23 years, and we also offer design and build and irrigation services too!
---
Our full-service landscape maintenance program includes everything your lawn and landscape needs to stay pristine.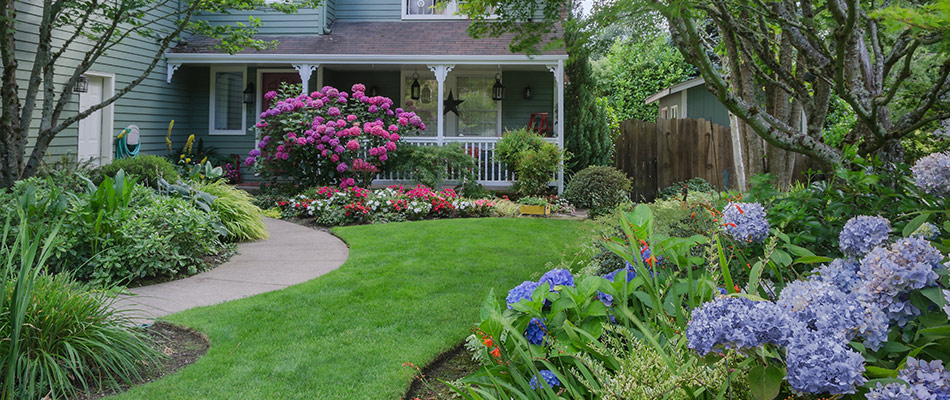 We strive to give your lawn and landscape everything they need to stay pristine, so we offer lawn care and landscaping services in one convenient program - our full-service landscape maintenance program! When you sign up, you can expect all of the following services:
Fertilization: We'll apply our liquid fertilization treatments four times from early spring until summer to give your lawn a quick boost of nutrients. Then, we'll use granular fertilization treatments in the fall to supply nutrients gradually over time rather than all at once. Our last treatment is in the early winter, which can be either granular or liquid.
Weed Control: Our pre- and post-emergent weed control treatments will keep your turf free of crabgrass, nutsedge, clover, chickweed, and other pesky weeds.
Aeration: Our aeration service will loosen compacted soil and improve nutrient access to the roots of your grass.
Overseeding: We can improve lawn density by spreading turf-type tall fescue seeds to fill bare and patchy areas with new, healthy grass growth.
Lawn Mowing: We offer weekly lawn mowing from March until November, then we'll switch to a bi-weekly schedule outside of this time.
Trimming & Pruning: We'll trim your plants as needed to keep them shapely and neat. Meanwhile, we'll practice selective pruning to benefit their health, but only when it's the right time.
Mulch Installation: We can install mulch in your landscape beds to make your plants stand out and keep them healthy.
Leaf Removal: We'll take the dreaded chore of removing leaves from your yard off your to-do list.
Yard Cleanups: We offer spring and fall yard cleanups, which include plant pruning, landscape bed renovation, lawn mowing, and debris removal.
Keep your business accessible during the winter with our commercial snow removal service, which we offer with our full-service landscape maintenance program!
---
Take Your Outdoor Living Space to the Next Level With Our Design & Build Services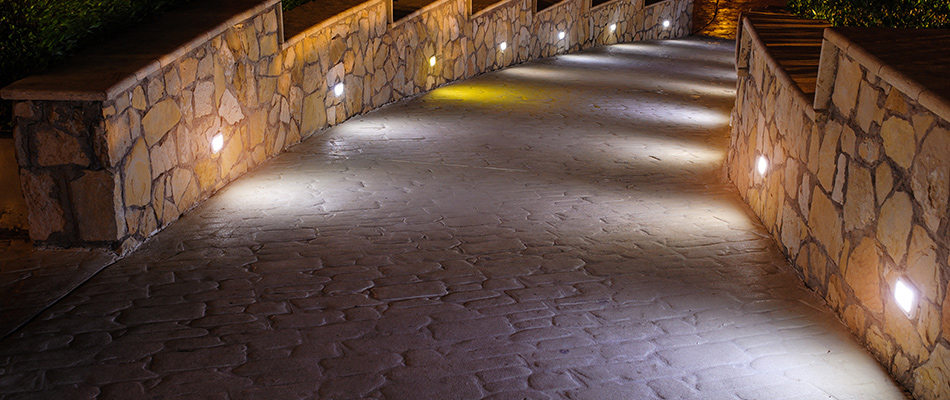 If you want to take your outdoor living space to the next level with stunning hardscape features, then our design and build services are for you! However, that's not all - we can renovate your softscapes for a fresh look and even provide new lawn services for our design and build clients.
Landscape Lighting: We can install beautiful landscape lighting to illuminate your outdoor living space at night!
Retaining & Seating Walls: Our retaining and seating walls are as decorative as they are functional, and we'll use top-quality materials to ensure they last for years to come.
Fire Pit & Outdoor Fireplace Installation: We can build a new fire pit or outdoor fireplace using a kit or a custom design. We offer wood, propane, and gas-burning options for our fire pits, and wood and gas for our outdoor fireplaces.
Patio & Walkway Installation:

We can construct your new patio and walkway with pavers, natural stone, or brick.

Driveway Installation: We'll install your driveway with concrete pavers to ensure it can withstand the test of time.
Outdoor Step Installation: You can choose from our various stone options for your outdoor steps.
Outdoor Kitchens: We can install a custom or kit-built outdoor kitchen with amenities that'll make it functional for you, including grills, refrigerators, outdoor burners, and more!
Water Features: If you want a water feature for your outdoor living space, we're the ones for the job. Our most popular features include bubblers, water fountains, and ponds.
Landscape Renovation: We'll take your landscape and breathe new life into it!
New Lawn Services: Our new lawn services include sod installation, seeding, and artificial turf.
We offer drainage solutions to remedy flooding problems on your property, including dry creek beds, catch basins, and downspouts.
---
We offer various irrigation services to properties in Kernersville, NC.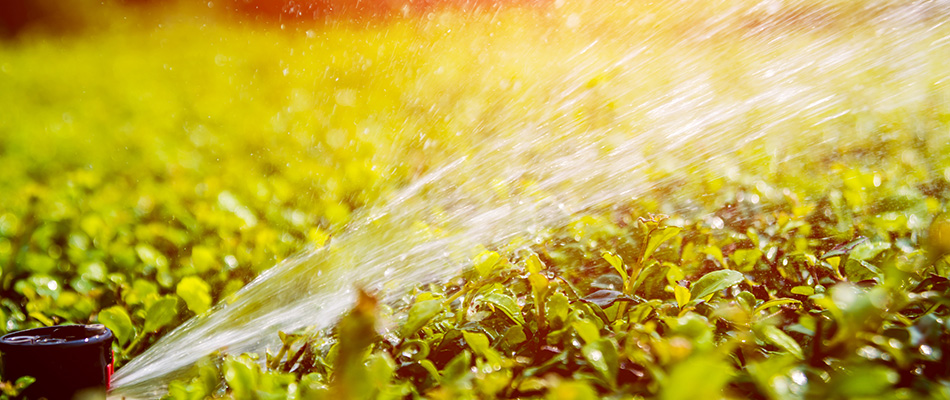 Our team at Ideal Landscaping & Irrigation is here to satisfy all your irrigation needs with our various services, which are as follows:
---
Sign Up for Our Lawn Care & Landscaping Services Today
Whether you need lawn care, landscaping, irrigation, or design and build services - we offer it all to homeowners, business owners, and HOA property owners in Kernersville, NC. You can trust that we're the ones for the job, and we'll exceed your expectations with our services every time! Call (336) 396-9191 to sign up for our lawn care and landscaping services today!