Professional Drainage Solutions in Greensboro, Winston-Salem, Summerfield, NC & Nearby Cities
Our drainage solution options include river rock, dry creek beds, catch basins, and more!
If you're dealing with standing water in your lawn, backed-up downspouts, or any other issue with water flow in your property, we understand how frustrating it can be. That's why we've mastered drainage solution installations to resolve these issues! Our drainage solution options include river rock, dry creek beds, catch basins, downspouts, and more. Our team will leverage their expertise to help you choose the best solution based on the issue, your specific needs, and your individual property. We use only the best materials, utilizing PVC pipes that are durable, unlikely to clog, and have great longevity.
We offer this service to commercial, residential, and HOA properties in Greensboro, NC and nearby cities like Winston-Salem and Summerfield. Our team will work tirelessly until your drainage problem is resolved, so let's get started today!
---
We install drainage solutions like dry creek beds, catch basins, downspouts, and more!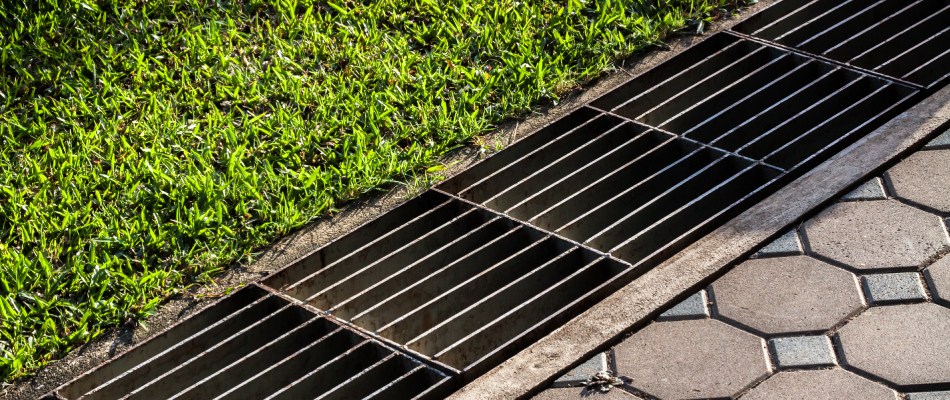 Every property and drainage problem is unique, so we make sure to offer several different solutions to find the best fit for you. The drainage solutions we offer include:
River rock: By lining areas in your landscape with river rock, we'll provide a permeable space for water to drain through.
Dry creek beds: Our dry creek beds are designed to redirect the flow of water and help prevent soil erosion.
Catch basins: We can install catch basins that serve as a rainwater reservoir to prevent standing water.
Downspouts: To direct water away from your business or home's foundation walls, our downspouts are an excellent option.
And more!
---
Our experienced team will help you choose the best drainage solution for your property.
When deciding which type of drainage solution to implement, there are many factors to consider. Our experienced team will be right there with you every step of the way, leveraging their expertise to guide you in making the best decision for your property. We'll consider the specific issue at hand, your needs, and the layout of your property to concoct a drainage system that checks all the boxes.
We'll also consider your desired aesthetics when choosing a drainage solution since some options are smaller and more inconspicuous!
---
We use PVC pipes in our drainage solutions for their durability, longevity, and resistance to clogging.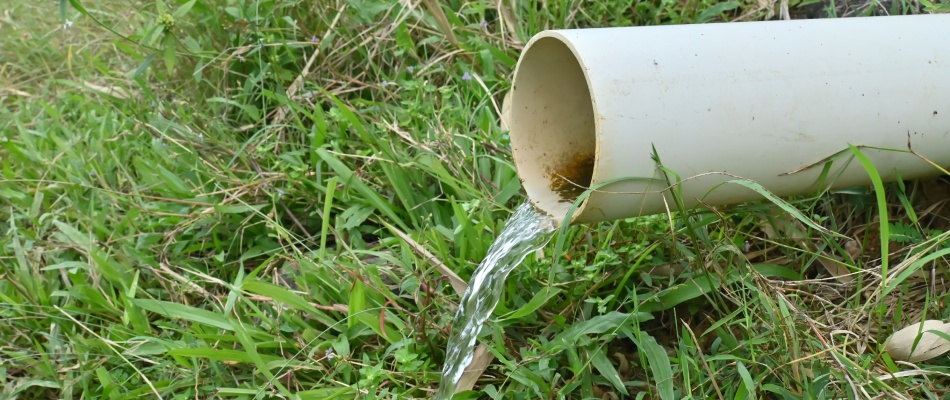 Many companies use corrugated pipes in their drainage systems, but we don't believe in cutting corners for convenience at the cost of quality. We utilize PVC pipes in our designs because they are extremely durable, unpenetrable by roots that may be growing near. This also gives them increased longevity, increasing their overall value! To make things even better, PVC walls are smooth, making them resistant to clogging since there isn't any textured surface for debris to cling onto. These factors make PVC pipes the best material to use in a drainage solution, and we think you deserve nothing less!
---
Call us today to get a quote on your new drainage solution!
At Ideal Landscaping & Irrigation, our focus is going to be on two things: meticulous attention to detail and client satisfaction. We believe these go hand in hand, as the more attention we pay to the small details, the better the result will be, leading to higher client satisfaction. Happy clients lead to happy employees who want to do better work, and the cycle repeats! This is why you can be confident that when we arrive at your property, we're going to knock it out of the park. If you're in Greensboro, Winston-Salem, Summerfield, or a surrounding city in North Carolina, we're ready to help you next. Call us today at (336) 396-9191 to get the quote for your new drainage solution!