Professional Lawn & Landscaping Services in Graham, NC
We've been serving property owners since 1999!
A city bursting with unique character, no two days in Graham, NC are spent the same way. You can walk the downtown murals created by local artists, visit Sesquicentennial Park which features the city's original courthouse bell from 1859, or learn something new at the Graham Historical Museum, housed in a repurposed firehouse. Graham is a growing urban area that is sure to be one to watch over the coming years!
We knew a city like this deserved only the best – so that's what we aim to provide! Our lawn and landscaping services are top-notch with a team dedicated to perfection to back them up. We offer these services to commercial, residential, and HOA property owners in Graham and nearby cities in North Carolina. Call our team at (336) 396-9191 today to schedule!
---
Our landscape maintenance program will ensure your property is thriving and well-tended!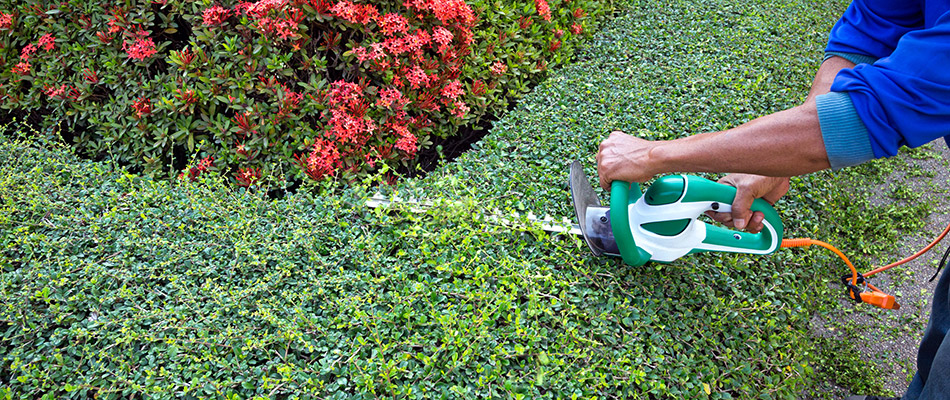 We have a full-service landscape maintenance program that offers comprehensive care for your lawn and landscape!
Our program includes:
Fertilization: Our team will utilize both liquid and granular fertilizers to provide full-coverage nourishment to your lawn.
Weed Control: With both pre- and post-emergent applications, we'll protect your lawn from weeds like crabgrass, nutsedge, clover, spurge, and more.
Aeration: We'll combat soil compaction by loosening the soil on your property and enabling better nutrient access for the roots of your grass.
Overseeding: Our team can overseed your lawn with high-quality fescue seeds to fill out any thin spots.
Lawn Mowing: After mowing your lawn, we'll also edge, trim, and blow leaves and debris off hard surfaces!
Trimming & Pruning: We'll selectively trim and prune your plants to keep them healthy and well-tended!
Mulch Installation: Replenish your landscape beds with our mulch installation service! Fresh mulch will enhance the aesthetics of your beds and improve moisture retention.
Leaf Removal: To handle pesky leaves, we can either mulch them, blow them into the woods, or rake them to the curb.
Yard Cleanups: Our yard cleanups will involve removing debris from your lawn and landscape beds, rejuvenating the beds with fresh mulch, and pruning the landscaping plants that need it.
Commercial Snow Removal: We'll keep your business safe and accessible for your employees and customers with our snow removal!
---
We can install fire pits, driveways, lighting solutions, and more.
We can upgrade your property with our stunning installation services!
Landscape Lighting: To create a customized lighting solution that illuminates your property and highlights its best features, schedule our landscape lighting installation!
Landscape Renovation: We can renovate your softscapes with beautiful plants that will thrive in our area.
Retaining & Seating Walls: Our retaining and seating walls are the perfect combination of decoration and function.
Fire Pit & Outdoor Fireplace Installation: Whether you want to fully customize your fire pit or fireplace or use a pre-designed kit, we have what you need!
Patio & Walkway Installation: We can construct matching patios and walkways out of materials including brick, concrete pavers, and natural stone.
Driveway Installation: Our driveways have a unique base that improves drainage and are built from durable concrete pavers.
Outdoor Step Installation: Using a variety of stone materials, we can create outdoor steps that transition your space from indoors to outdoors seamlessly.
Outdoor Kitchens: With a broad selection of amenities like built-in grills, coolers, refrigerators, and more, our team can install your dream outdoor kitchen.
Water Features: Our team can install soothing water features like bubblers, water fountains, ponds, and more!
New Lawn Services: We can install sod, seed a new lawn, or install artificial turf to rejuvenate your property.
---
Our Irrigation Services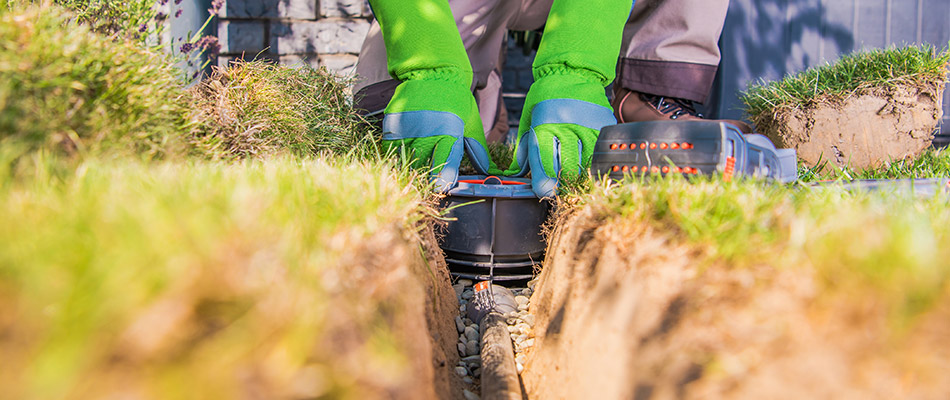 Our irrigation services will see to it that your hydration system is always in peak operating condition when your lawn and landscape need it the most.
Irrigation Installation: Our team can build a custom irrigation solution perfect for the needs of your lawn and landscape, whether that's a classic sprinkler system or a drip irrigation system!
Irrigation Winterization: We'll prepare your system for the winter temperatures by turning off its water source, draining the backflow, and turning off the clock.
Irrigation Startup: In our start-ups, we'll reactivate your system step-by-step to ensure it's good to go for the seasons ahead!
Irrigation Repairs: Whether it's a broken sprinkler head, faulty valve, leaking pipe, clogged nozzle, or something else, we can repair it.
Irrigation Management: In summer, we'll visit your property three times when your irrigation system is under the most use to ensure it's operating flawlessly!
---
Call our team today to schedule any of our professional lawn and landscaping services!
At Ideal Landscaping & Irrigation, our guiding light is the drive we have to see our projects through to perfection. We work tirelessly until the job is done to our high standards. Our team members take pride in their work, and as a company, we believe that if you look over everything, you will overlook nothing. This principle means you can rely on us to put our all into every job we do, no matter how big or small! Our services are available in Graham, NC and nearby cities. Call our team at (336) 396-9191 today to schedule any of our lawn and landscaping services!