We provide landscaping services for commercial, residential, and HOA properties in Winston-Salem, NC.
Our team works to improve your curb appeal by installing hardscapes and softscapes and maintaining your landscape.
Winston-Salem, NC in Forsyth County is a city overflowing with culture and character. It is often referred to as the "Twin City" because it is the product of the merger between the towns of Winston and Salem in 1913. If you're looking for something to do in this city, you can stop by the Lam Museum of Anthropology, which is located on the campus of Wake Forest University. If looking at art is more your speed, you can check out the Diggs Gallery which is on the campus of Winston-Salem State University.
Our crew at Ideal Landscaping & Irrigation is glad to provide our landscaping services to homeowners and business owners in Winston-Salem. From our hardscapes and softscapes installation to landscape maintenance services, we are your go-to team if you want to improve your curb appeal.
---
Enhance the Beauty & Functionality of Your Property With Our Hardscaping Services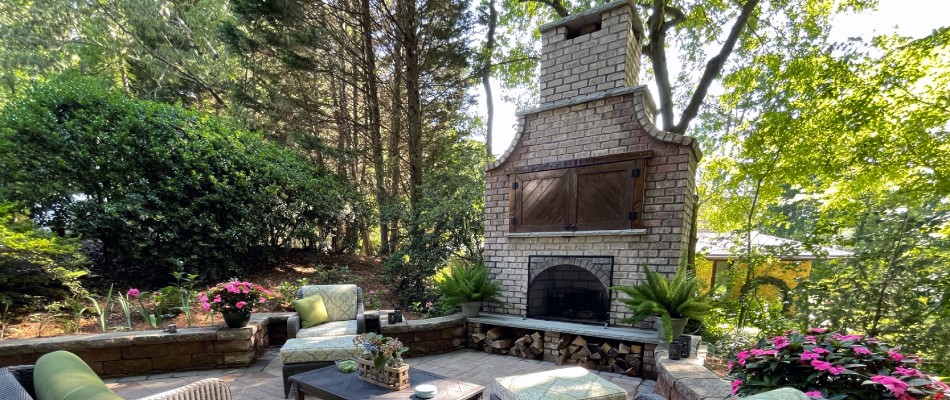 At Ideal Landscaping & Irrigation, we can help make your property in Winston-Salem stand out by creating the outdoor living space of your dreams with our landscape design and installation services. When you partner with our crew, you can count on us to utilize high-quality materials to ensure your new hardscape is constructed to withstand the test of time. Whether you want a fire pit or an outdoor fireplace for some warmth on your property or water features to make your outdoor space more calming, we have you covered. We can also marry style and function with our retaining and seating wall installation services.
No matter what dreams you have for your property, our seasoned experts will turn them into reality with the following landscape design and build services:
Landscape Renovation
Outdoor Step Installation
---
Keep your lawn and landscape's pristine condition with our full-service landscape maintenance program.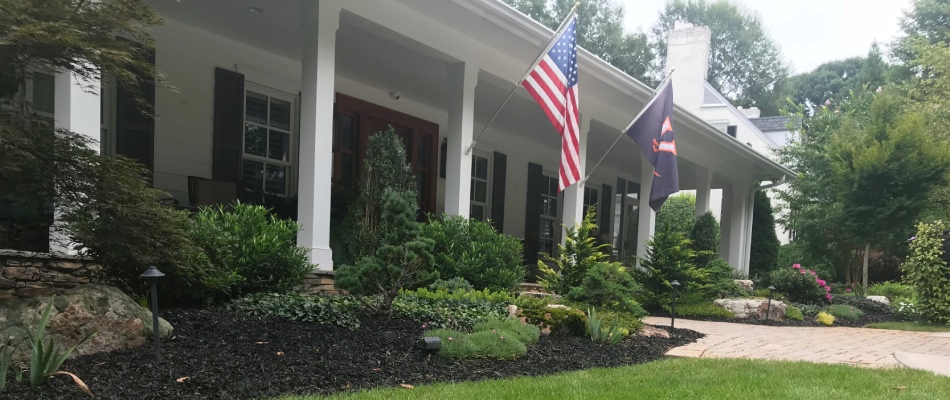 We offer a full-service landscape maintenance program that includes vital lawn care services that strengthen your grass and give you the lush lawn you've always wanted. We will bolster the health of your turf with lawn fertilization, weed control, aeration, and overseeding. This program also includes lawn mowing to keep your grass looking fresh and manicured.
Our program also includes landscape maintenance services that are designed to keep your landscape in pristine condition. We can remove debris, eliminate leaves, install mulch, and trim your plants! All of these services are included in our full-service landscape maintenance program:
Lawn Fertilization
Weed Control
Aeration
Overseeding
Lawn Disease Control
Lawn Insect Control
Sod Installation
New Lawn Services
Leaf Removal
Trimming & Pruning
---
Our Irrigation Services Include Startups, Winterization, Repairs, Management, & Installation
Whether you own a home or business in Winston-Salem, you need an irrigation system to water your grass and plants efficiently. If you don't have one yet, we offer irrigation installation to ensure your vegetation is properly hydrated. Our team also handles irrigation management and performs repairs to ensure your system is working smoothly. Check out the complete list of our irrigation services below:
---
Call our crew today to schedule our landscaping services!
If you're looking for a team who can build hardscapes, maintain your lawn and landscape, and install and manage irrigation systems, you've come to the right place. At Ideal Landscaping & Irrigation, we strive to exceed expectations in everything that we do so no matter which service you need from us, you can expect spectacular results. We offer our landscaping services to homeowners and business owners in Winston-Salem, NC, and throughout the surrounding areas. If you are ready to take your property to the next level, call us today at (336) 396-9191 to schedule any of our landscaping services.