Expert Lawn & Landscape Services in Elon, NC
Our broad range of services includes irrigation, lawn and landscape maintenance, hardscape installations, and more!
The town of Elon, NC is perhaps best known for the college located there, Elon University, which focuses on creating an environment that fosters engaged and experiential learning. As the basis by which the town itself was founded, it's clear that education is a top priority for residents of Elon. That shines through in their downtown center as well, filled with rich cultural experiences including a collection of visual art, locally owned restaurants and shops, and events such as Music 2 Dine 2, where local musicians entertain people while they eat.
Our company provides property owners in and around Elon, NC with top-notch lawn and landscape services so that while they're out enjoying the town, they know they're returning to a well-manicured and cared for property. Our services include full-service landscape maintenance, irrigation management, hardscape installations, and much more. Call our team at (336) 396-9191 to get your quote!
---
Keep your irrigation system in prime working order with our irrigation services.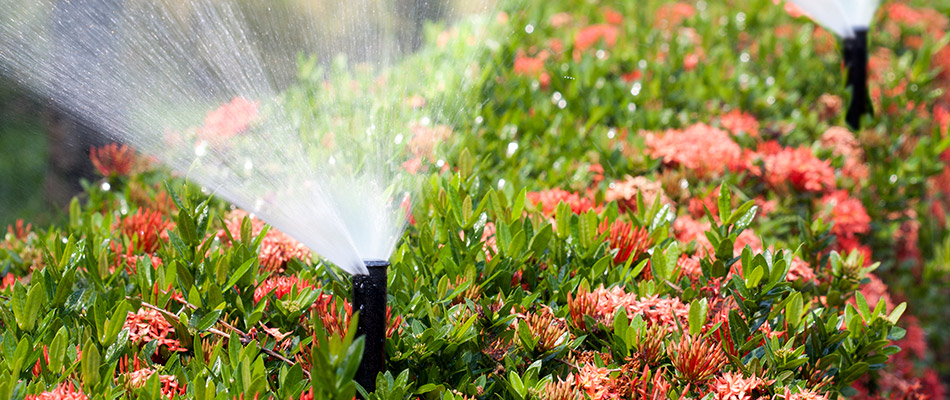 To upgrade your hydration game, we can design and install a new irrigation system for you! We are well-versed in classic sprinkler systems as well as drip irrigation systems so that no matter your needs, we can answer the call.
Before the freezing temperatures have a chance to damage your irrigation system, our winterization service will methodically decommission it so that it can ride out the winter season safely.
Once the spring rolls back around, we can revive your irrigation system with an irrigation startup and perform a full-system wet check to ensure everything is operating smoothly just in time for the warmer weather.
Leaking pipes, misprogrammed controllers, clogged nozzles, broken sprinkler heads, and more – we can stand with you through it all and resolve the issue with our irrigation repair service!
Our management program will have our technicians keep a close eye on the performance of your system all through summer when it is the most needed and under the most use, ensuring that any issues are caught and fixed as early as possible!
---
We can install beautiful hardscapes and softscapes to upgrade your property.
If your lawn is in desperate need of a reset, we can help. Our new lawn services include sod, seed, and artificial turf, so with any level of maintenance and upkeep that you're looking for, we have a solution for you!
Our landscape renovations will upgrade your softscapes with stunning plants that not only thrive in their environment but look great while they're at it!
Create a soothing atmosphere for your property with the addition of water features like bubblers, water fountains, ponds, and more!
For something spicier, we can also install hardscape fire features like fire pits and outdoor fireplaces.
So that your guests can safely traverse your property from inside to outside, we install outdoor steps that will help serve as the transition for your spaces!
We can build a retaining or seating wall to any height you desire! These walls can be built to help prevent soil erosion on sloped properties, provide extra seating accommodations, and more.
Our patios and walkways can be made from beautiful, durable materials like pavers, natural stone, and brick.
Whether you want to be deeply involved in the design to create a custom design or choose from a set of pre-designed kits, we can make it happen with our outdoor kitchens.
We use concrete pavers and a unique, modified base to create driveways that are not only stunning, but have better drainage and compaction!
We can illuminate your property with landscape lighting so you can enjoy it even after dark!
---
Our Lawn & Landscape Maintenance Services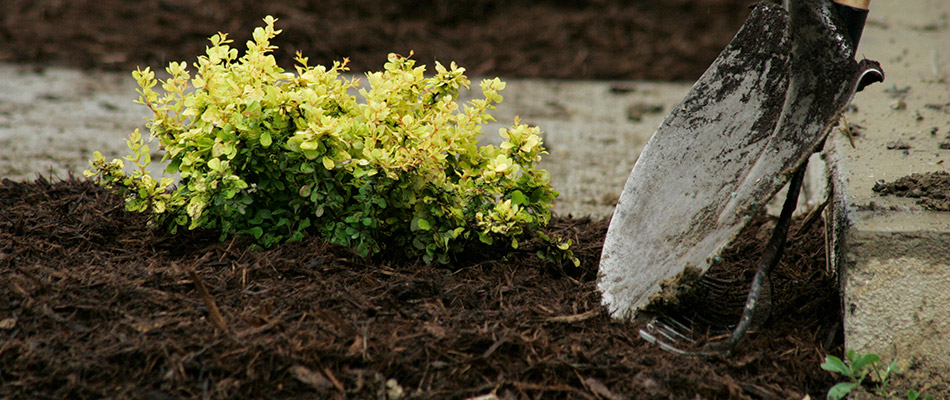 We don't believe in doing anything halfway, so we offer a full-service landscape maintenance program that cares for your property from every direction!
To nourish your lawn, we use both liquid and granular lawn fertilizers so that throughout the year, your grass has the support it needs to grow healthy and strong.
We'll also combat weeds like clover, spurge, chickweed, crabgrass, and more with our weed control treatments.
Soil compaction will be a problem no more with our aeration treatments, allowing the roots of your grass to have better access to nutrients!
If you have thinning or bare spots on your lawn, our overseeding service can fill them out with healthy fescue seeds.
With our lawn mowing program, we'll mow weekly throughout the growing season and adjust to bi-weekly when needed.
We'll take care of your landscaping plants with our trimming and pruning service, keeping them healthy and preventing them from becoming overgrown.
Our mulch installation will refresh your landscape beds – your plants will thank you later!
Our program will include five visits a year for leaf removal to keep your property looking sharp all year long.
For the ultimate tidying up, our yard cleanups include debris removal, mulch installation, and pruning in spring and fall!
We provide commercial snow removal to ensure that your business remains ready to receive employees and customers through the winter!
---
Call us today to schedule any of our lawn and landscape services!
At Ideal Landscaping & Irrigation, we know how important trust is to the business-customer relationship. We don't take our customers' trust for granted. That means our crew will show up on time and ready to work for every single service you schedule with us. We're dedicated to not only earning your trust, but being deserving of it with our hard work and diligence! If you're in Elon, NC or a surrounding area, call our office today at (336) 396-9191 to schedule any of our lawn and landscape services.