Professional Lawn & Landscaping Services Available in Burlington, NC
We have offered our services for the last 23 years!
Burlington is a city located in Alamance and Guilford counties in North Carolina. Burlington is also home to a diverse variety of restaurants, entertainment venues, and shopping centers. If you would like to get out and explore the natural beauty of Burlington, you can visit Cedarock Park. This park features hiking trails, picnic shelters, camping, and even a fishing pond!
Our team here at Ideal Landscaping & Irrigation offers a wide selection of lawn and landscaping services to the homes and businesses in Burlington. Our services include our comprehensive landscape maintenance program, landscape design and construction, full-service irrigation, and more.
---
We Offer a Full-Service Maintenance Program
Full-Service Maintenance Program: This comprehensive program includes all of the lawn care services you need to achieve your ideal lawn, such as lawn fertilization, weed control, aeration, and overseeding. It also includes maintenance services like lawn mowing, trimming and pruning, mulch installation, leaf removal, and seasonal yard cleanups. We even include commercial snow removal in this convenient program.
---
We Can Design & Build a Variety of Custom Landscape Features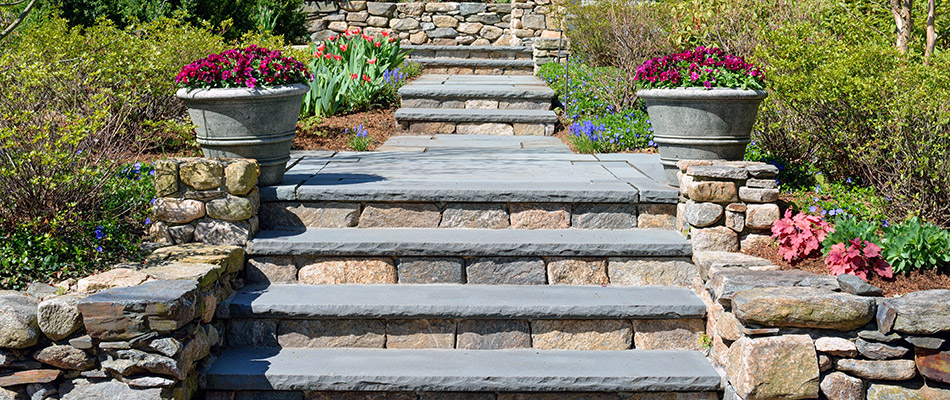 Landscape Lighting: Our team uses LED lighting because it is safer, more durable, and more energy-efficient than traditional incandescent lighting.
Landscape Renovation: We can take your curb appeal to the next level by installing brand-new landscape beds that are custom to your property.
Retaining & Seating Walls: Our retaining and seating walls are designed to be fully functional as well as stylish additions to your landscape.
Fire Pits & Outdoor Fireplaces: Our experts can build your new fire feature from a kit or work with you to create a custom design.
Patios & Walkways: We use a variety of brick, natural stone, and concrete pavers to construct our custom patios and walkways.
Driveways: Our custom driveways are built with a modified base that allows for better drainage and compaction.
Outdoor Steps: We have a wide selection of materials available for our custom outdoor steps, including Indian sandstone, natural stone, concrete blocks, and more.
Outdoor Kitchens: Built-in grills, burners, and refrigerators are just a few amenities we can include in your custom outdoor kitchen.
Water Features: We can build a variety of custom water features, such as bubblers, water fountains, ponds, and more.
New Lawn Services: Our experts can completely renovate your property by installing sod, seed, or artificial turf.
---
These Services Will Keep Your Irrigation System Running Smoothly
---
Call us today to sign up for any of our comprehensive lawn and landscaping services!
Our team here at Ideal Landscaping & Irrigation has offered our top-notch services to the residential, commercial, and HOA property owners in Burlington, NC since 1999. We pride ourselves on providing the members of our community with the highest quality lawn and landscaping services they have ever experienced. If you are interested in any of our comprehensive services, give us a call at (336) 396-9191 to sign up with us today!