We offer professional lawn and landscaping services to homes and businesses in Greensboro, NC.
Our team offers comprehensive lawn and landscaping services that will ensure your property is at its best year-round.
Located in Guilford County, Greensboro is a city in North Carolina home to more than 296,000 people. This scenic city features numerous attractions, one of which is the picturesque Bog Garden at Benjamin Park. It features an elevated boardwalk and stone pathways that allow you to navigate through 7-acres of natural wetlands where you can see a variety of beautiful trees and wildlife.
At Ideal Landscaping & Irrigation, our team offers professional lawn and landscaping services to residential and commercial properties in Greensboro. From lawn care, landscape maintenance, hardscape installation, and even irrigation services, we provide a comprehensive list of services designed to keep your lawn and landscape at its best year-round.
---
We install patios, walkways, outdoor kitchens, outdoor lights, and more.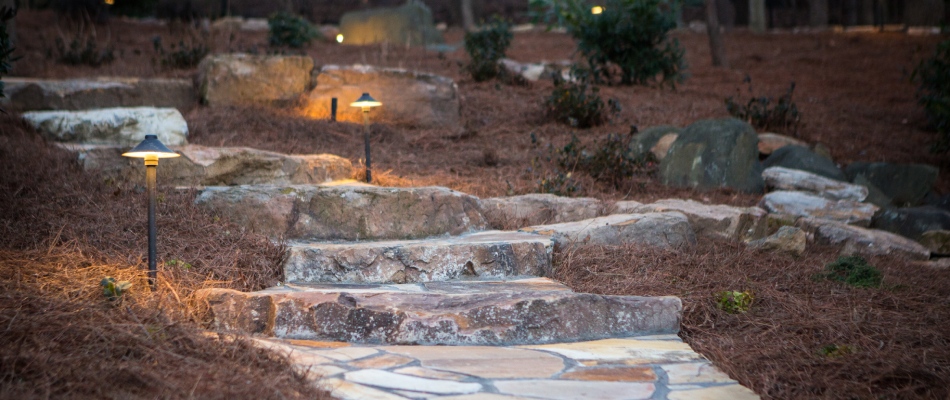 Adding functional and stylish hardscapes to your property in Greensboro can increase your curb appeal and make your home or business more appealing to your guests.
We can install outdoor lights around your property to showcase the most beautiful features of your landscape while increasing the safety of your property at night. You can rely on us to refresh the appearance of your yard in Greensboro by adding vibrant flowers and lush plants with our landscape renovation service. Below are more of our design and build services:
---
Keep Your Lawn & Landscape in Pristine Condition With Our Care & Maintenance Services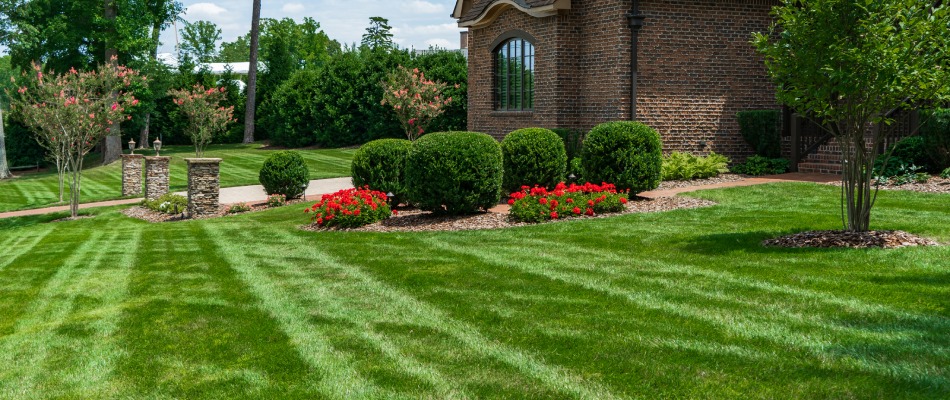 Caring for your lawn and landscape is not an easy job. Keeping your grass green and your landscape manicured entails a long list of time-consuming tasks, and that's where we come in! Our team offers lawn care and maintenance services that are included in our full-service program. These services include fertilization, weed control, lawn mowing, trimming and pruning, and much more.
At Ideal Landscaping & Irrigation, we keep your lawn in Greensboro healthy by giving it much-needed nutrients and keeping pesky weeds at bay. When it comes to treating your grass for diseases and insect infestations, we can take care of that for you too.
We can also keep your yard in pristine condition by removing debris, eliminating leaves, replenishing mulch, and more. While our yard cleanups are an essential part of our full-service program, they can also be scheduled as an independent service. Check out our comprehensive care and maintenance services for your lawn and landscape:
Leaf Removal
Lawn Mowing
Trimming & Pruning
Fertilization
Aeration
Overseeding
Weed Control
Lawn Diseases
Lawn Insects
---
We Provide Additional Services Like Drainage & Commercial Snow Removal
At Ideal Landscaping & Irrigation, we pride ourselves on providing comprehensive services for homeowners and business owners in Greensboro. That is why you can also count on us to address drainage and grading issues on your property. Standing water on your lawn can be caused by poor drainage or inadequate grading on your home or business. Leave this problem to our team and we'll make sure you don't have to deal with a muddy lawn again!
If you own a business in Greensboro, then you know how tough it is to deal with snow while managing your business. Let our team help with our commercial snow removal service so you can focus more on your customers.
---
Boost your curb appeal today with our lawn and landscaping services. Call us today to schedule!
When it comes to enhancing your property and boosting your curb appeal, our professionals at Ideal Landscaping & Irrigation are always ready to help. We offer expert lawn care, landscaping, and hardscape installation services to commercial, residential, and HOA properties in Greensboro, NC. Call us today at (336) 396-9191 to schedule!