Irrigation Installation & Lawn Care Package in Greensboro, Winston-Salem, Summerfield, NC & Nearby Areas
Our lawn care encompasses fertilization, biological treatments, weed control, and more!
We know there's more to creating a healthy, thriving lawn than one or two sparse treatments. That's why we offer a combination irrigation installation and lawn care package that supports your lawn in every direction, preventing weeds, providing expertly calibrated hydration to your lawn, and much more. We can install your irrigation system any time, and our lawn care program encompasses seven rounds of nutritive treatments that will help your lawn grow strong and healthy. This package is available to commercial, residential, and HOA property owners in Greensboro, NC and nearby areas like Winston-Salem and Summerfield. Call our team at (336) 396-9191 today to receive your quote and get started!
---
Our irrigation and lawn care package includes irrigation installation, lawn fertilization, iron supplements, and more!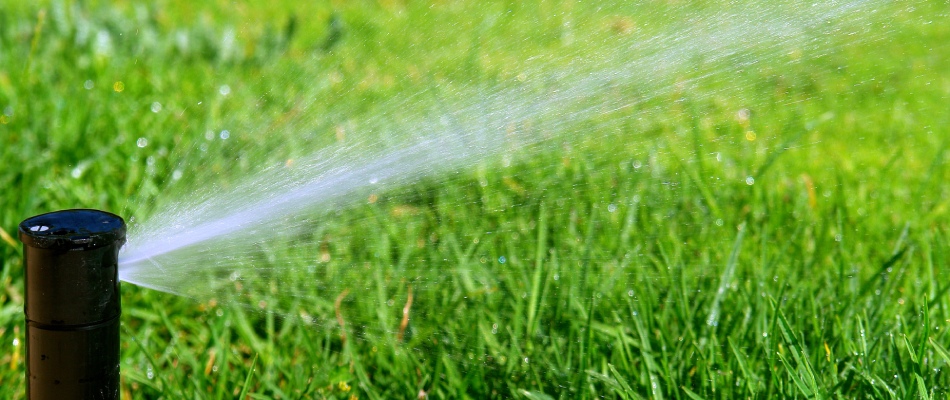 We don't believe in doing anything halfway – so our irrigation and lawn care package will nourish and support your lawn from every angle, leaving no detail missed and no stone unturned.
Our irrigation and lawn care package includes:
Irrigation installation: Our team will assess your property and create an irrigation system that properly hydrates your lawn, ensuring full coverage so that every zone and blade of grass gets the water it needs to thrive.
Lawn fertilization treatments: Your lawn will be nourished with our fertilization treatments that include nutrients like nitrogen, phosphorus, and potassium to support healthy growth.
A mix of biologicals: We'll apply biostimulants like seaweed, kelp, and humic acid that will help increase fertilizer effectiveness in your lawn by allowing the plants to absorb more nutrients from the soil.
Iron supplements: Our iron supplements will rejuvenate the iron levels in your soil, helping to balance the soil's pH and allowing your grass to grow green and strong.
Pre-emergent weed control treatments: We'll help you get ahead of weeds by applying pre-emergent treatments that stop newly germinated seeds from sprouting.
Post-emergent weed control treatments: For any weeds that do break through the surface, our post-emergent weed control treatments will kick them to the curb so they don't get a foothold in your lawn.
Our technicians can check for lawn diseases as an additional service in the lawn care package.
---
What is the schedule for our irrigation installations and lawn care program?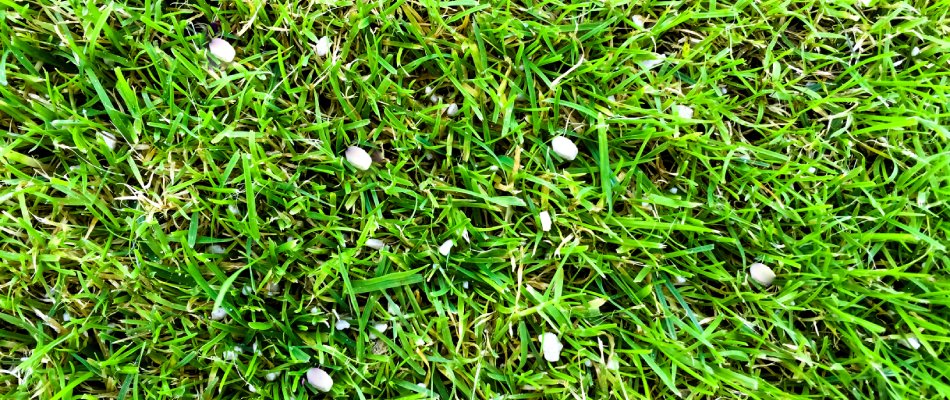 Our irrigation installations can be scheduled at any time of year. Our technicians will set the timer and controller to the ideal watering schedule, ensuring that your lawn is receiving season-appropriate hydration whether it's the peak of summer heat or cool fall temperatures.
Our lawn care program involves seven total rounds of treatments for your lawn with each treatment being 45 days apart so that your lawn isn't left unsupported at any key time of year.
Rounds one and two: These rounds include fertilization, pre- and post-emergent weed control, and a mix of biologicals.
Round three: We'll apply pre-emergent weed control and treat nutsedge and broadleaf weeds. Another round of biologicals, iron supplements, and slow-release fertilizer will keep your lawn in great shape!
Round four: Our team will treat with a slow-release fertilizer, iron supplements, biologicals, and scout for broadleaf weeds and nutsedge to eliminate.
Round five: Granular starter fertilizer will be applied to nourish your lawn.
Round six: We'll do another round of granular starter fertilizer to keep supporting your grass with key nutrients.
Round seven: Depending on the needs of your lawn, we'll apply liquid or granular fertilizer, iron supplements, and more biologicals to focus on winterization.
---
Call our team today to enroll in our irrigation installation and lawn care package!
At Ideal Landscaping & Irrigation, our #1 priority is and always will be producing top-tier results for you and your lawn. We'll work tirelessly until the job is done to perfection, and if you aren't happy, neither are we! Our team members are knowledgeable and friendly, supporting you through the entire process and keeping you informed. Our services are available in Greensboro, Winston-Salem, Summerfield, and surrounding areas in North Carolina. If you're in the area and ready to get started, call our team today at (336) 396-9191 to enroll in our irrigation installation and lawn care package!