Outdoor Kitchen Installation in & Around Greensboro, Winston-Salem, & Summerfield, NC
We have been installing outdoor kitchens for 23 years!
Does your outdoor living space need a next-level upgrade? If so, we can help you! Our team at Ideal Landscaping & Irrigation can install the outdoor kitchen you've always wanted. We offer this service to property owners in Greensboro, Winston-Salem, Summerfield, and nearby areas in North Carolina. Our team can use a kit of your choice to build your outdoor kitchen or we can work together to create a custom outdoor kitchen. Some amenities we can add to your outdoor kitchen include built-in grills, outdoor burner, refrigerators, track drawers, and drop-in coolers. We can also brighten up your new outdoor kitchen with a custom outdoor lighting setup.
---
We can construct your outdoor kitchen using a kit or a custom design.
When you're planning a big landscaping project like an outdoor kitchen installation, it can be difficult to decide how you want the final product to look. If you're not quite sure where to start, we have multiple different kits available that allow you to choose the overall structural design of your outdoor kitchen; however, the rest of the design is up to you, including the building materials we use and the amenities you choose to add. If you already know exactly what you want out of your new outdoor kitchen, you can work with us to create a custom design from scratch. Whether you decide to go with a kit or a custom design, our landscaping experts will collaborate with you to construct the perfect outdoor kitchen to add to your property.
---
You can add a variety of different amenities to your outdoor kitchen.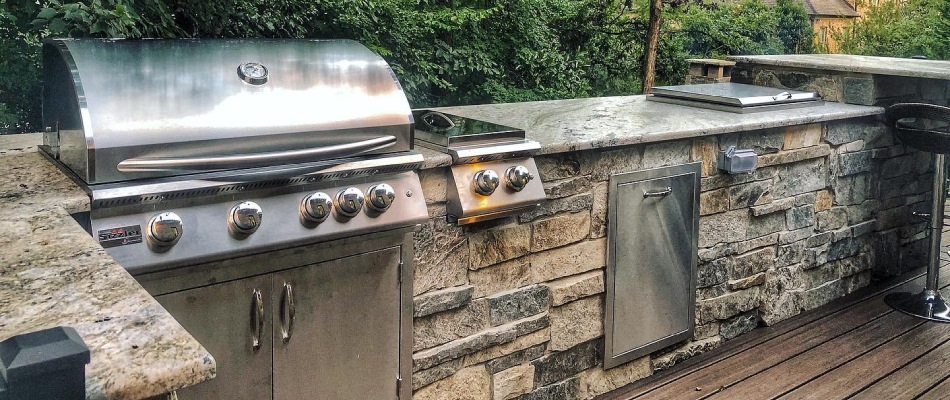 There is a wide variety of amenities we can include in your brand-new outdoor kitchen. Some features that are popular in the Greensboro area include:
Built-in grills: Built-in grills allow you to cook a variety of foods in your outdoor kitchen and entertain your guests while you're doing it.
Outdoor burners: Outdoor burners also allow you to cook in your outdoor kitchen; depending on what kinds of food you'd like to prepare, you can choose to use your built-in grill or outdoor burners.
Refrigerators: A fridge in your outdoor kitchen prevents you from having to run back and forth to your regular kitchen for cold drinks and food.
Track drawers: Built-in track drawers are convenient as they provide convenient storage for items like utensils and spatulas.
Built-in coolers: Built-in coolers allow you to keep ice-cold drinks on hand. You can even use your cooler to chill wine.
---
Add outdoor lighting to your outdoor kitchen for the perfect finishing touch.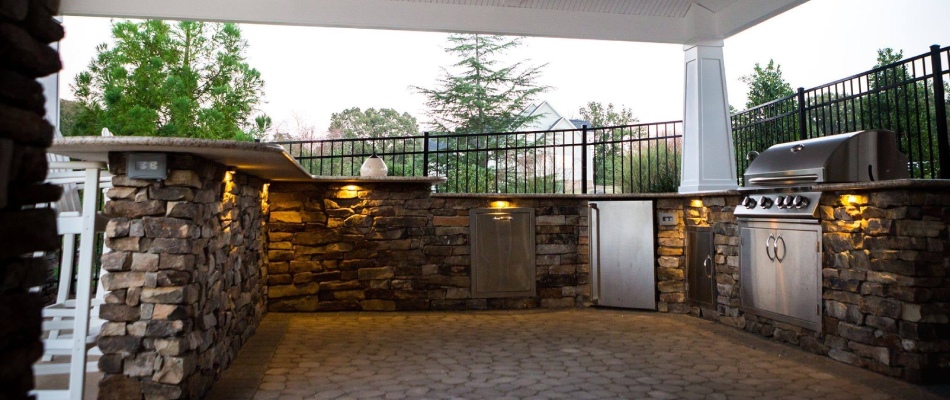 Outdoor lighting is a great way to make your outdoor kitchen more usable; it allows you and your guests to enjoy your outdoor kitchen regardless of the time of day. Outdoor lighting can also give you the opportunity to highlight the best features of your landscape and give your outdoor living space a more complete look. Our team can add the perfect finishing touch to your outdoor kitchen by installing your custom outdoor lighting setup.
We can even install a seating wall in your outdoor kitchen to provide built-in seating for get-togethers.
---
Call our experts to install your new outdoor kitchen!
Since 1999, our landscaping experts at Ideal Landscaping & Irrigation have proudly served property owners in Greensboro, Winston-Salem, Summerfield, and surrounding communities in North Carolina. Our team has the training, experience, and expertise necessary to design and install the perfect outdoor kitchen for your landscape. Give us a call at (336) 396-9191 today to schedule a consultation about your brand-new outdoor kitchen!