We offer landscaping services to commercial, residential, and HOA properties in Lexington, NC.
We've been providing high-quality hardscaping and irrigation services since 1999!
Lexington, NC is the county seat of Davidson County and is home to more than 18,000 people. This city is known for its mouth-watering barbecue, and is known as "The Barbeque Capital of the World". There are many different restaurants in Lexington where you can savor their flavorful barbecue, like Arcadia Q, Backcountry Barbeque, Lexington Barbecue, and many more!
Our crew at Ideal Landscaping & Irrigation provides top-quality landscaping services for homes and businesses in Lexington, NC. We can transform your property by installing colorful plantings and sturdy hardscapes, and we also offer a variety of irrigation services to ensure your lawn and plants stay properly hydrated.
---
We install hardscapes and softscapes to transform your outdoor living space.
At Ideal Landscaping & Irrigation, our landscape renovation service will transform your property by adorning it with beautiful softscapes. If you're looking to update your property with a new lawn, you can take advantage of one of our new lawn services. We can help you get the beautiful lawn of your dreams by using sod, seeds, or artificial turf.
Our patio, walkway, and outdoor steps installation services utilize durable materials to ensure your hardscapes are built to last. We also offer driveway installation to enhance your property with a custom driveway that will amp up your curb appeal!
If your property is built on a slope, you'll want to have us install a retaining wall on your property. Not only will a retaining wall add usable, flat space to your property, but it will also provide benefits such as reducing soil erosion. If you're looking for a beautiful way to add more seating to your outdoor area, our seating walls are the perfect way to do so!
We also can install customized fire pits and outdoor fireplaces or we can build them using prefabricated kits. We also install outdoor kitchens that you can customize with the amenities you need to make cooking a breeze. If you want a more calming environment, say no more. We are skilled at installing custom water features like bubblers, fountains, ponds, and more!
---
Our Lawn & Landscaping Services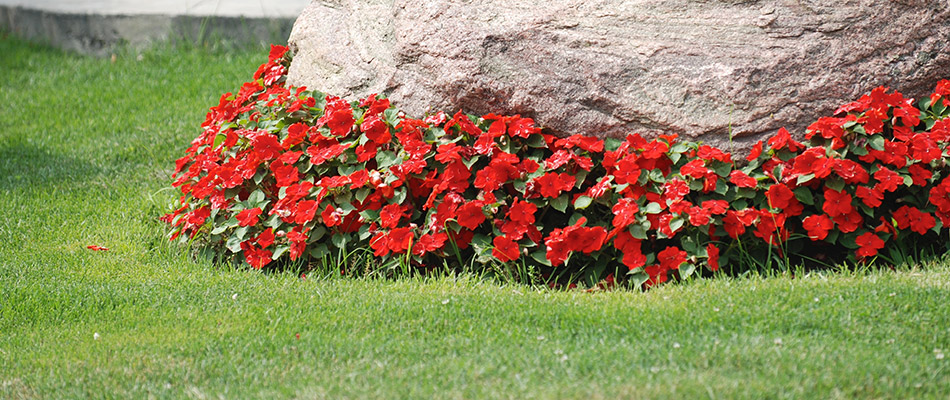 We offer a full-service landscape maintenance program that includes everything you need to keep your lawn and landscape in tip-top condition. With this program, you can rest assured your lawn will flourish year-round, as it comes with essential lawn care and maintenance services like lawn mowing, lawn fertilization, weed control, aeration, and overseeding.
Our program does not stop at caring for your lawn; we will also maintain your landscape's pristine and manicured aesthetics through leaf removal, yard cleanups, mulch installation, and trimming and pruning. If you own a business in Lexington, our team is ready to help you get your business running during the winter months with our commercial snow removal service.
---
Keep your irrigation system running smoothly with our irrigation services.
We offer an irrigation management service to keep your irrigation system in Lexington working perfectly so your grass and plants won't go unwatered. We also offer an irrigation repair service to fix issues like broken sprinkler heads, faulty valves, clogged nozzles, and leaky pipes.
Our irrigation startups in the spring aim to safely get your irrigation system back online after our irrigation winterization service shuts it down for the winter to ensure no water is left inside the pipes that can damage the system.
If you don't have an irrigation system yet, we can install an irrigation system on your property to ensure your grass and plants stay hydrated.
---
Call our crew today to schedule any of our landscaping services.
At Ideal Landscaping & Irrigation, we always make sure our clients are satisfied with our work. Whether you need help keeping your landscape in excellent shape or want to transform your outdoor living space into the outdoor living area of your dreams, we are the company to call. We offer our landscaping services to commercial, residential, and HOA properties in Lexington, NC. Call us today at (336) 396-9191 to schedule any of our services!