We offer landscaping and irrigation services to homes and businesses in Clemmons, NC.
We have been providing reliable landscaping and irrigation solutions since 1999!
Located in Forsyth County, the village of Clemmons, NC is a suburb of Winston-Salem that is rich in history and southern charm. If you're looking for a quiet escape, you can spend the day at Tanglewood Park near the Yadkin River. This park features trail systems, pedal boats, horse stables, and a breathtaking view! The Festival of Lights at Tanglewood Park is a famous attraction for locals and tourists every holiday season as the park transforms into a festive wonderland of bright, twinkling lights.
Are you a homeowner or a business owner in Clemmons wanting to improve your property? You've come to the right place! Our team at Ideal Landscaping & Irrigation offers reliable landscaping, hardscaping, and softscaping services to make your property more appealing. We are also experts at installing and maintaining irrigation systems.
---
Our Irrigation Services Include Installation, Repairs, Management, Startups, & Winterization
To keep your lawn and plants healthy, you need an irrigation system that will provide them with the hydration that they need. Here at Ideal Landscaping & Irrigation, we can install drip irrigation systems and sprinkler irrigation systems that will fit the needs of your plants. You can also rely on our licensed irrigation technicians to perform all sorts of irrigation repairs to keep your system running so your grass and plants never go unwatered!
We provide an irrigation management service that involves 3 visits from our experts to check your irrigation system and ensure everything is working smoothly. It's also crucial to ensure your irrigation system is safely shut down before the winter season arrives to prevent it from being damaged. As the spring season sets in, we can get your irrigation system back up and running with our startup service. Our irrigation services include:
Do you have issues with standing water on your property? We offer a variety of drainage solutions to solve your drainage problems.
---
We offer a full-service maintenance program.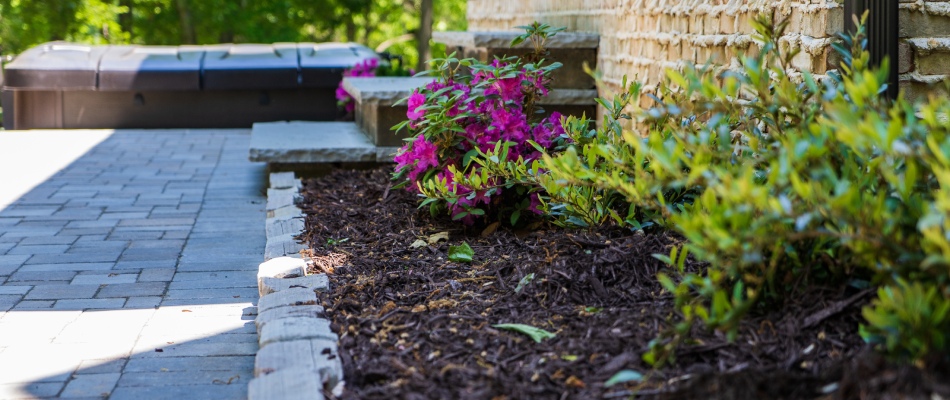 Our full-service maintenance program is designed to keep your lawn and landscape looking excellent all year long. When you sign up for this program, we'll nourish your lawn in Clemmons, NC with lawn fertilizers and keep weeds at bay using pre- and post-emergent treatments. The program also includes aeration and overseeding to encourage thicker grass growth with better access to nutrients.
Cluttered yards will do your curb appeal no good. With our full-service maintenance program, that won't be an issue since it includes leaf removal and yard cleanups to eliminate unwanted debris and thick leaf piles. Our full-service maintenance program includes:
Lawn Fertilization
Weed Control
Aeration
Overseeding
Lawn Mowing
Trimming & Pruning
Leaf Removal
If you own a commercial property in Clemmons, NC our commercial snow removal service will keep it accessible in the winter.
---
Transform your outdoor living space with our hardscaping and softscaping services.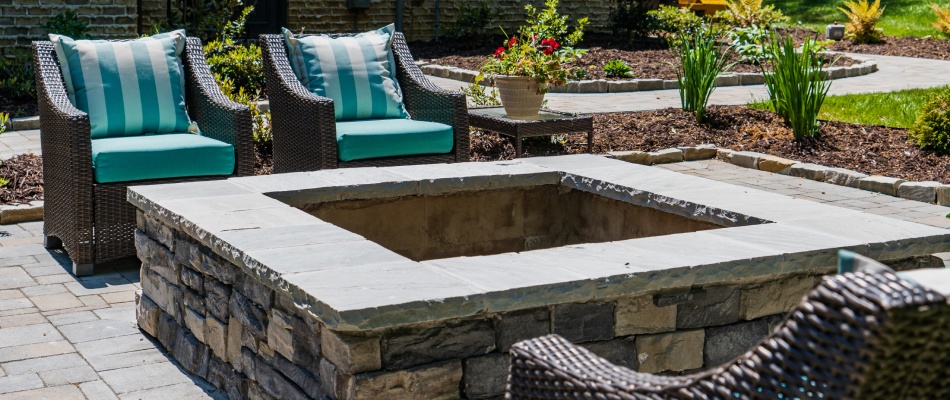 Are you interested in making the outdoor living space of your dreams a reality? If so, we can help. Our team is full of professionals who can install different hardscapes like patios, walkways, and outdoor steps. Many property owners in Clemmons, NC also love adding fire features like fire pits and outdoor fireplaces to their properties because these hardscapes can enhance the beauty of their outdoor living spaces and provide them with warmth when the weather starts to get chilly.
Whether you want to make your property more serene with water features or improve its function with an outdoor kitchen that has essential cooking amenities, we have the skills, knowledge, and right equipment to deliver exceptional results. Below are all the hardscaping and softscaping services we provide:
Landscape Renovation
Driveway Installation
Outdoor Steps Installation
New Lawn Services
---
Call our team today to schedule our landscaping and irrigation services.
Enhancing the beauty of your property requires hard work and expert craftsmanship—qualities our team at Ideal Landscaping & Irrigation has. We can help you achieve your goals for your commercial or residential property in Clemmons, NC with our landscaping and irrigation services! Give us a call today at (336) 396-9191 to schedule any of our services.