Sprucing up your property with outdoor lighting is a great way to further enhance your curb appeal and increase your property value. There's nothing better than marveling at a well-lit-up house in North Carolina during a relaxing nighttime drive. But before you start planning your outdoor lighting setup, you need to choose the type of bulb you want to use. This may seem difficult because of the different options you can choose from, but there is one clear winner—LED lights. There are numerous advantages to installing LED lights on your property instead of incandescent and halogen bulbs. LED lights tend to be more energy efficient, last an incredibly long time before burning out, and are generally much safer than other bulbs you'll find on the market! Continue reading to learn more!
---
LED bulbs are more energy efficient than other bulbs.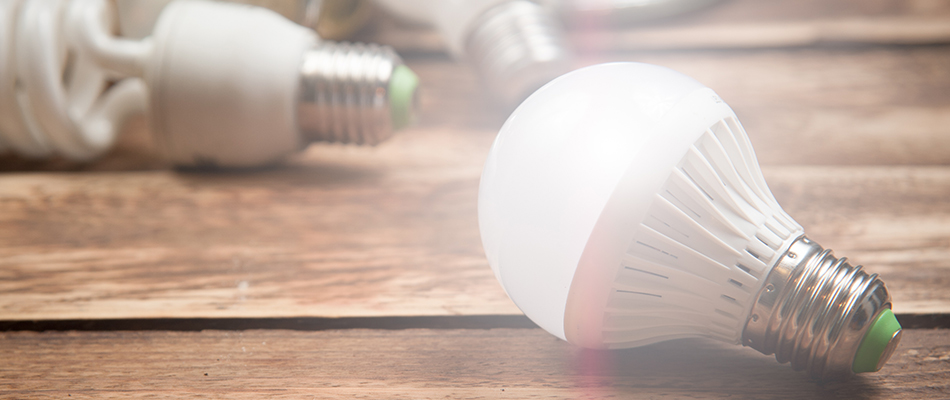 Some people are put off by the initial price of an LED bulb when compared to halogen or incandescent bulbs, but don't let that price fool you because LED bulbs more than make up for it in the long run! When it comes to energy efficiency, LED lights are in a league of their own! LED lights will produce the same brightness level at a fraction of the energy cost. For example, a standard 12-watt LED light is equivalent to a 60-watt halogen or 75-watt incandescent bulb. So, multiply those savings by the number of lighting fixtures you'd want to use for your outdoor lighting system. In short, your electric bill will be much lower when you use LED bulbs for your lighting system when compared to incandescent or halogen bulbs.
LED lights are much friendlier for the environment. Since they consume less power per lumen emitted, they help reduce greenhouse emissions from power plants!
---
LED bulbs will last longer than other bulbs before they burn out.
When choosing a light based on its longevity, LED bulbs cannot be beaten! That's because LED lights can last thousands of hours longer than your standard halogen and incandescent bulbs. Your standard LED light can last anywhere between 25,000-35,000 hours. When compared to other bulbs, LEDs clearly outclass them because halogens only last around 2,000 hours while incandescent lights last a measly 750 hours. What this means for you is that you don't have to worry about your lights burning out so quickly, saving you money and time since you won't have to replace your lights as often!
---
LED bulbs are safer than other bulbs because they don't generate much heat.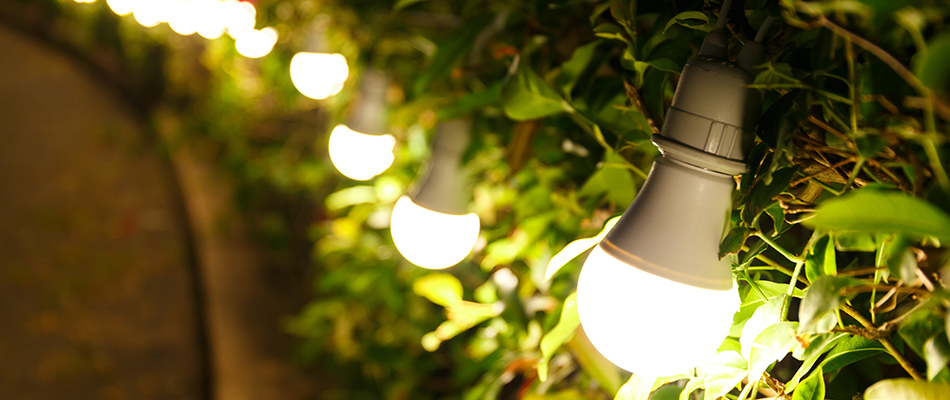 When it comes to your property, safety should be one of your top priorities. The good news is that LED lights are the safest bulb to use in your outdoor lighting system when compared to other bulbs. That's because LED lights generate almost no heat, thanks to a built-in heat sink which helps them dissipate heat as opposed to other bulbs that almost generate heat exclusively. Your standard 100-watt incandescent bulb, for example, can get incredibly hot to the touch—anywhere between 150-250 degrees Fahrenheit. That makes LED bulbs much safer to handle since you won't have to worry about burning yourself!
LED lights are made of epoxy lenses instead of glass, making them much more durable than incandescent and halogen bulbs.
---
Elevate your property's nighttime aesthetic! Call us to schedule our outdoor lighting service.
Now is the time to take your property's nighttime aesthetic to the next level by installing an outdoor lighting system! At Ideal Landscaping & Irrigation, we use LED lights in all our outdoor lighting fixtures because of the numerous advantages LED bulbs have over incandescent and halogen bulbs. We service commercial, HOA, and residential properties in the Greensboro, NC area, including nearby areas such as Winston-Salem and Summerfield. Call us today at (336) 396-9191 to schedule a consultation for our outdoor lighting service!