Fertilization is a vital lawn care service that supplies your grass with a variety of key nutrients. These nutrients power your lawn's healthy growth, enrich its green color, and strengthen its resistance to environmental stress. In North Carolina, there is an ideal fertilization schedule you should follow if you want your lawn to reap the maximum benefits. This schedule includes two treatments in the spring, two in the summer, one in the fall, and one in the early winter. Keep reading to learn more about each treatment and what it does for your lawn!
---
Fertilize your lawn in the early and late spring.
Your annual fertilization schedule in North Carolina should begin with treatments in the early and late spring. Your first spring fertilizer application should occur by March 31st and helps revive your lawn from its winter slumber. Your very first fertilizer treatment of the year is highly important because it delivers nutrients that kickstart your lawn's growth as it enters the growing season. Without this application, your lawn will not transition as well from winter to spring.
Your second spring fertilizer application should occur by May 31st. This treatment essentially builds on your first application from earlier in the season. It provides your turf with another blast of key nutrients that strengthen and fuel your lawn as the weather warms. Notably, both spring fertilizer treatments should contain substantial amounts of nitrogen. Nitrogen helps your lawn green up as it emerges from the winter.
---
Apply more fertilizer in the early and late summer.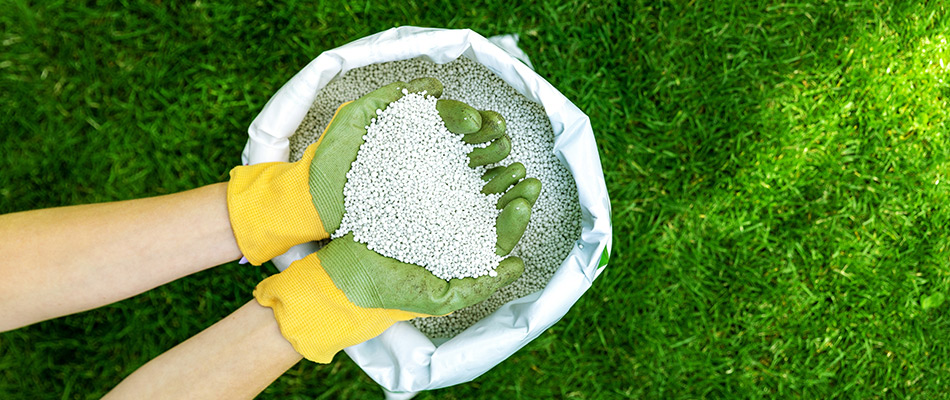 The next dates on your annual fertilization schedule in North Carolina are the early and late summer. Applying more fertilizer at these junctures is critical to preserving the health of your grass. That's because your turf endures a lot of heat stress in the summer and requires nutrient replenishment to withstand it. You should apply your first summer fertilizer application by July 15th and your second application by August 15th. Both treatments should be rich in potassium and iron. Potassium is the primary nutrient that increases your lawn's ability to resist stress, while iron prevents your lawn from turning yellow and losing its verdant color.
Use a fast-acting liquid fertilizer blend in the spring and summer to provide an immediate impact on your lawn!
---
Fertilize your lawn once in the fall.
Once summer draws to a close, it is important to fertilize your lawn once in the fall. Fertilizing your lawn at this time helps your grass recover from the summer and gives it a boost as it enters the fall growing season. You should use a slow-release granular fertilizer that provides ongoing nourishment to your grass throughout the fall. This type of fertilizer promotes seed germination and rooting, enabling your turf to take full advantage of the cooler weather. You should apply your fall fertilizer treatment before November 15th.
---
Finish up fertilization in the early winter.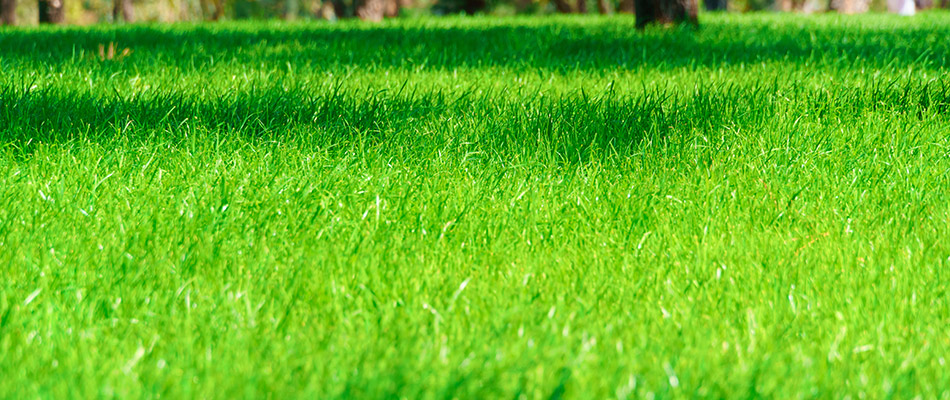 The last step of your annual fertilization schedule in North Carolina should be an early winter treatment that is applied before December 31st. Finishing up your fertilization treatments at this time prepares your grass for the extreme weather conditions that await in the months ahead. The nutrients provided by this treatment will help sustain your grass throughout the winter and set it up to emerge successfully in the spring.
Your early winter fertilization treatment should be high in nitrogen to help your turf stay green during the winter.
---
Call us today to sign up for our lawn fertilization service!
Do you want to let a team of lawn care professionals fertilize your lawn for you rather than do it yourself? If so, then we are here for you. At Ideal Landscaping & Irrigation, we provide our lawn fertilization service to residential, commercial, and HOA property owners in Greensboro, Winston-Salem, Summerfield, and surrounding cities in North Carolina. Our lawn fertilization service is available as part of our full-service landscape maintenance program, which also includes weed control, aeration, overseeding, lawn mowing, and more. If you're ready to sign up, call our top-notch team today at (336) 396-9191!