Our clients in Greensboro, NC contacted us to help them transform their outdoor living space into a beautiful oasis. They own a home with a lot of land, but their outdoor areas were bare. They decided they wanted to get the most out of their property, so they picked up the phone and gave us a call.
When we arrived at their property for the initial consultation, we listened to their goals and helped them decide the best ways for them to get the most out of their outdoor living space. They expressed that their backyard area needed some work so that they could enjoy spending time there with their family and friends. We installed a beautiful patio that became the centerpiece for their entire outdoor area. We also installed a fire pit, pergola, and an outdoor swing to add gorgeous and functional elements to their property. Then, we installed landscape beds in their front and backyards and filled them with beautiful flowers to increase the overall curb appeal of their property and give it some color. We finished off the project by installing landscape lighting to highlight the beauty of their property after nightfall, and so that they can use their outdoor living space at night.
---
We Started by Installing a Patio & Fire Pit in Their Backyard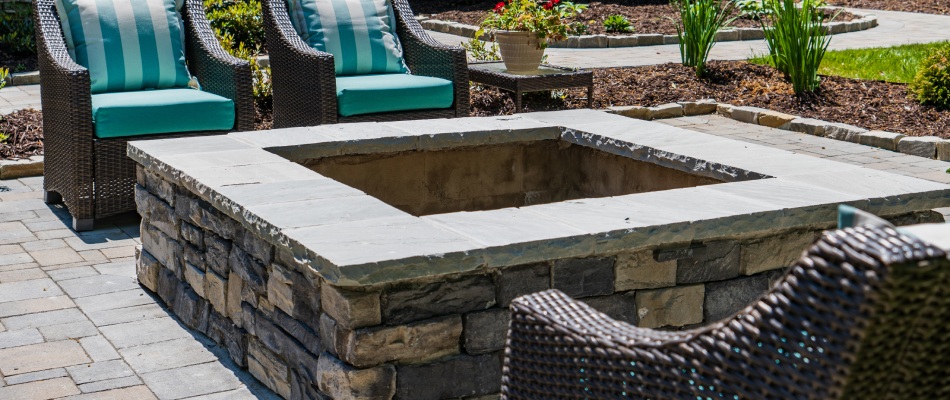 Our clients had a large backyard, but it was bare and needed some elements added to it to make it a great place to spend time in. Our clients decided to have a patio installed using high-quality pavers. We installed their patio using an intricate design that combined tan and gray colors to give them a beautiful patio space. The next step in this project was to install their new fire pit. They choose a square design, which we installed on one side of their patio, making sure to leave plenty of space around it where chairs could be placed. This fire pit instantly became the focal point of their property and provides them with a great space to spend time with their loved ones.
---
We Installed Landscape Beds Around Their Property & Filled Them With Colorful Flowers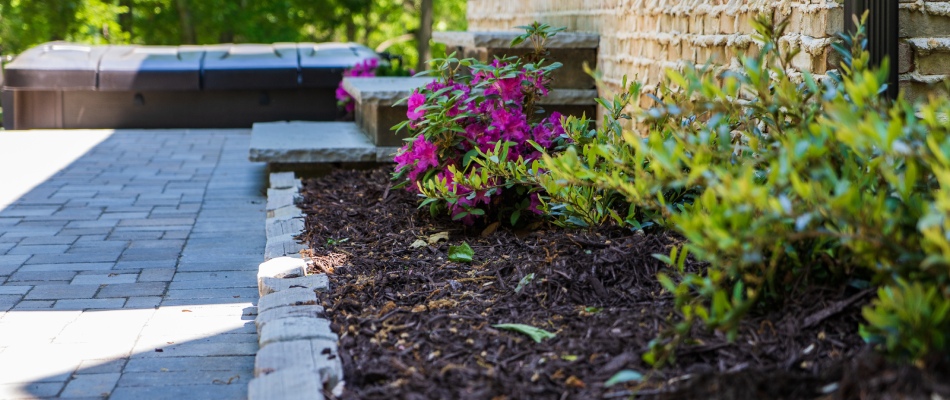 We installed landscape beds in the front yard of our client's home and filled them with colorful flowers and bushes to increase the curb appeal of the property. For their backyard, we installed a landscape bed that surrounded their new patio, creating a breathtaking outdoor living space. We used rock ground coverings for some of the landscape beds and brown mulch for others, adding to the beauty of these beds.
---
Our Finishing Touches Included Installing a Pergola, Swing, & Outdoor Lighting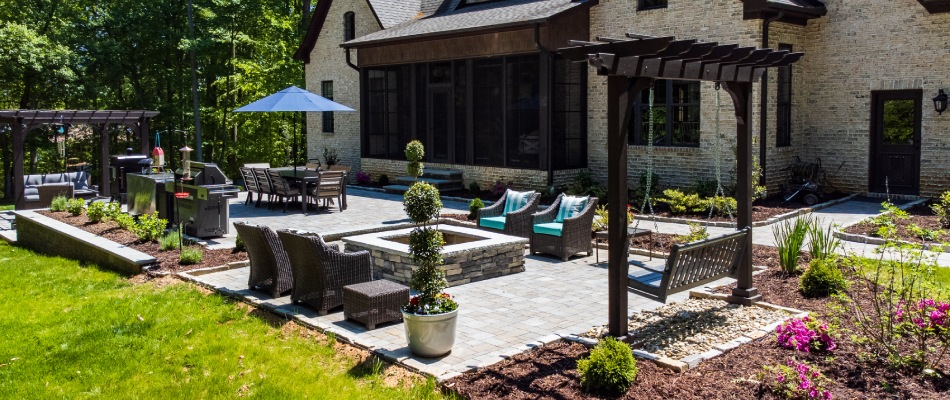 With their new outdoor living space nearly complete, we added a few finishing touches to take their property to the next level. We installed a large pergola on their patio that they can fit outdoor furniture under. We also installed a swing on the end of their patio which hung from a smaller pergola. Finally, we installed outdoor lighting around their property using high-quality LED lights. These lights highlight the beauty of their property and allow them to use their outdoor space at night.
We use LED lights because they are energy-efficient and long-lasting!
---
Project Photos
---
Give us a call today to schedule your outdoor living space makeover!
If you're looking to renovate your outdoor living space, we are the company to call! At Ideal Landscaping & Irrigation, we have been helping property owners turn their outdoor areas into spectacular oases since 1999. We can install patios, fire pits, landscape beds, outdoor lighting, and much more. We offer our services to residential, commercial, and HOA properties in Greensboro, Winston-Salem, Summerfield, NC, and the surrounding areas. Give us a call today at (336) 396-9191 to schedule your outdoor living space makeover!